Explorations, summer through fall
June - October 2008
---
This is a tale of tragedy, resurrection and hope.
A mishap mis-happened just at the end of the show in London: I lost my Brain. ...My Brain was a small notebook enclosed (with its pen) in a leather wallet. Besides being handy for jotting notes, it was also the holding area for receipts, for addresses and business cards, for small bits of cloth and postage stamps -- in short, for things of no use to anyone else, but vitally important to me.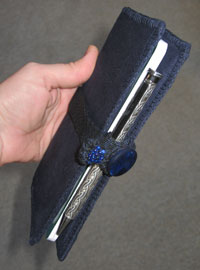 Stricken and brainless, I did the only thing a person can do in such circumstances: I made a new one.
The cover is linen, and it has been fused in layers: three layers of linen, two of heavy fusible interfacing (which binds the layers together), and in the middle of the "sandwich", a layer of paper for crisper rigidity. The interior of the cover has two slide-in pockets to hold the notebooks.
After fusing, the edges were all top-stitched by machine, then I did a blanket stitch all around to make a tidy edge. (It was heavy going -- I got blisters from the needle!) The result is pretty nice, if I do say so myself.
The strap and closure were important, because they would give me the all-important pen loop and also hold everything (receipts, stamps, et al) together.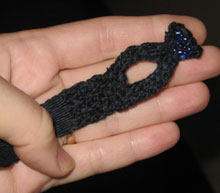 Tablet weaving has been on my mind lately -- so that's how I made the strap. The tablets were all threaded with two threads black and two of navy. Alas, the lighting in our apartment didn't let me see the difference between the two colours! Thus the band's final pattern was designed by... something other than me. ;-)
For the closure, I made a button loop of simple plaits: plait three ends of leftover warp, then plait three plaits. It made a nice texture, and it's easy to use. The final tab at the end was simply folded over, stitched by hand, then beaded to cover the stitching.
So there it is: my new brain.
May it serve long and happily.
---
It's the end of Recovery Week in the wake of the most recent Knitting & Stitching show -- this one at Alexandra Palace in London.
Alexandra Palace is an unusual venue in many ways. Though it is firmly rooted in the Victorian era, it was active in current events all through the 20th century.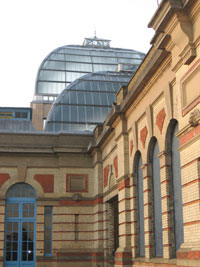 It served as a prison during World War I. It was the broadcasting origin of the first BBC television image in 1936 (it still has a tall antenna in one corner). It has been a gathering place and a landmark. It has burned twice. It has crumbled in parts and been rebuilt.
It is a survivor. And it's beautiful. (To read more about the Palace and its history, click here.)
The show at Alexandra Palace is the largest of the Knitting & Stitching season, with an average of 45,000 visitors over the show's four days. The organizers said that two of the four days this year were "larger than usual" -- which means more people than ever before came out to see beautiful things and get supplies for their handwork. Here at the end of the show, it feels like we spoke with every one of them. ;-)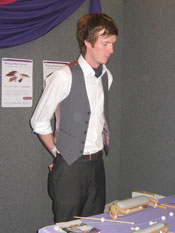 In the past I haven't had time to wander around through the show's offerings, but this year I did. I saw beautiful exhibitions (if you have the chance to come to the show in Dublin or Harrogate, do so -- the exhibitions alone are well worth it!). I saw bobbin lace that resembled nothing I'd seen before, with beautiful, clean modern lines -- one foot in tradition, the other in the future. I visited with people working in rural India teaching traditional dyeing skills to handicapped people -- and supporting the cooperative by selling their beautiful shibori scarves. And I met this interesting young man (left).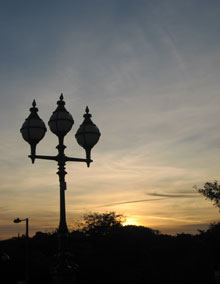 This young man is David Hill, and he invented a device to help his grandmother start knitting again, despite the arthritis that had kept her hands idle for many years. His device is such an excellent idea that I made a little video of it, which you can see here.
At the end of the day, it was a grand show. We met many, many nice people and reconnected with friends from past years.
The weather outside was beautiful: clear and sunny, with the low sunlight of autumn cleanly defining each leaf and brick, and a cool edge in the air hinting of the season to come. The evening sky looked like shibori: gentle patterns on a pale indigo ground.
Life is good.
---
29 September 2008
Worldly Woodworking Wisdom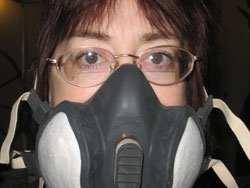 This is me, wearing the latest in this year's Parisian headgear -- de rigueur for any kind of living-room woodworking.
There's a story here. It has to do with types of wood and their availability, and (respirator aside) very little to do with me.
My semi-rigid heddles begin life as an assortment of odd bits: a bundle of Tex-Solv heddles, three kinds of glue, staples, some clamps and jigs... and a supply of pine slats. Pine is pleasant to work with. It smells nice, it cuts cleanly, it takes a nice finish, and in the final heddle, it's pretty and lightweight.
Last week I went to my wood shop for more pine... only to learn their supply was depleted and no new shipment was in sight! (I don't know if these things happen in other parts of Europe, but they happen regularly in France. You just roll with it.) With the pine unavailable, I chose a replacement from their other offerings -- an African wood I've used before and knew would take a nice finish.
This particular wood and I have a history. The last time we met, I was using my father's belt sander -- a machine "of a certain age" that joyfully sprays sawdust all around as it works. ...It turns out that I have an allergic reaction when this wood's dust hits my skin. An unattractive, lumpy red reaction that flares immediately and lasts several days. :-P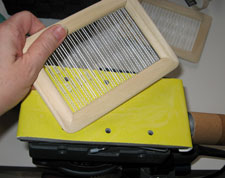 Still, the wood itself is nice and well worth the trouble -- and this time I was forewarned. Besides (I told myself), my little sanding machines both have vacuum attachments -- which I use.
I started working on the first heddle frame, running it along the sander as the vacuum sucked away the sawdust, smugly wearing a long-sleeved shirt and feeling safe. The dust was much finer than the stuff that comes from pine. It was finer and lighter. A lot lighter. Some of it went airborne despite the vacuum. ...By the time one heddle had been sanded, I was wheezing.
Into the computer chair I went, searching the Internet for information on this mysterious African wood.
It turns out that among other things, this wood has been widely used for sauna benches because it is fine-grained, fairly soft, and doesn't splinter. Reports started surfacing in the 1970s of workers in sauna factories who had asthma during the work week, but would recover on the weekend and during vacation. There were enough reports that it clearly wasn't just "bad attitude". ;-)
Sauna workers weren't the only ones affected -- and respiratory reactions weren't the only kind. To make a long research report short: most of the online documents about this wood describe its allergenic qualities! Interestingly, those allergens seem to be "active" in the wood's dust (inhaled or on the skin), but not in the wood itself. In other words, people sitting on sauna benches made of the wood don't react to it. ...That is excellent news for sauna-goers (imagine!), but also was good news for my heddles! All that was needed to work with the wood (and to make the wood work) was protection against its dust. :-)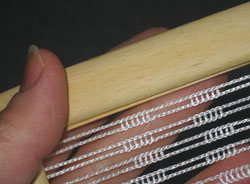 The wood really is lovely (left). Its Latin name is Triplochiton scleroxylon -- but that's not how it's sold by wood suppliers. Instead, they use one of its common names, and the common name chosen reveals the origin of the wood:
- Obeche comes from Nigeria.
- Samba comes from the Ivory Coast.
- Ayous comes from Cameroun.
- Wawa comes from Ghana.
It comes from a water-loving tree that grows near streams throughout western Africa. The trees are tall, growing to 180 feet or more, and their leaf structure resembles that of a maple. The trunks are straight and cylindrical and can be up to five feet in diameter. The wood is fine-grained and ranges in colour from ivory to a pale straw-yellow.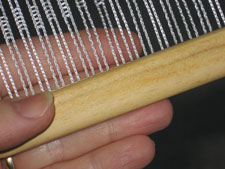 Working with it is a lot like working with poplar (except, of course, that its sawdust is so fine and irritating). The wood cuts cleanly and sands easily, and although its grain is not strongly pronounced, it has very pretty variations.
The wood in these photos has not yet received its final wax finish, but you can already see it will have a lovely "depth" and sheen. It might actually even be better than pine for my heddles -- it's lighter weight, easier to cut and sand, and (arguably) prettier after finishing.
In short -- it may require protective gear to work with this stuff, but it's definitely worth it!
---
New colours are good, and this one is delicious. It's silk (of course), and its colour is like the juice of ripe blackberries.
Silk in a dyepot can mean many things around here, but in the early weeks of this month, it meant I was preparing for a show: the first of the 2008 Knitting & Stitching shows, to be held in Birmingham (England, not Alabama)./p>
I play two roles in these shows. On the one hand, I lure people into spinning silk in hands-on classes, teaching one class each day of the show. On the other hand, I'm working in the "Braidmakers' Workshop" booth, teaching braiding and other techniques to anyone who will stand still long enough to listen -- and selling inexpensive kits and leaflets so people can take home the things they've learned. (That's what we do, we intrepid Four of the Braidmakers' Workshop!)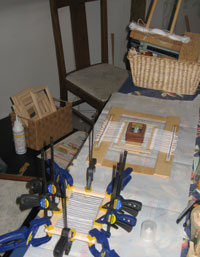 It's small potatoes (a "good" show will cover our expenses) -- but it involves some pretty intense preparation. For the weeks before a show, the dyepot steams, the printer prints, the sandpaper scrapes, the glue dries, the saw cuts dowels, then slats.... I am a one-person factory, making everything from spindles to heddles to braiding kits to booklets.
After the show, it takes a full week to get back into the daily swing of things... which, by the way, was this past week. ;-)
It's well worth it, because small textiles (braids and bands) are a passion I love to share -- and teaching spinning is a pure joy.
Perversely, though, even as I enjoy this time, I'm waiting for the long winter days ahead, when I can again immerse myself in the endlessly fascinating world of fibre and twist....
End notes, for inquiring minds

♦ The Knitting & Stitching Shows are held each autumn at four sites in the UK and Ireland: Birmingham, London, Dublin, and Harrogate. I'll be teaching at all but the London show. For more information, click here.

♦ The Braidmakers' Workshop participates in all four Knitting & Stitching shows. To read more about us, click here.
---
Let us step back a couple of weeks to a moment of calm.
We were spinning golden silk.
We spun with purpose.
Our golden silk singles would splash light into mysterious, luxurious, astonishingly matte merino yarns. The yarns in question (you may recall) had come from blah-beige rovings of merino-cross wool rescued in extremis by a rainbow dyepot.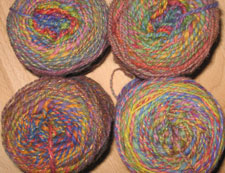 This photo (right) shows what a difference it makes to add that silk ply.
The ball in the upper right is the 2-ply wool yarn, plain. The other three have a third ply in silk gleaming from the depths, unifying the yarn and giving it life. (Click on the photo for a closer view.)
It's a simple thing, but it makes a big difference!
End notes, for inquiring minds

♦ The silk is bombyx mori (mulberry) silk, purchased in the form of a brick years ago from Sources Unknown. It was dyed with dried marigolds, acidified with vinegar, mordanted with alum.

♦ The spindle wheel shown above is one that I made a few years ago using materials available from the hardware store (I'll have to tell you that story someday). It's briefly described here, if you're curious.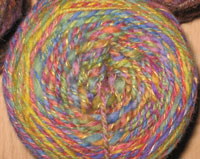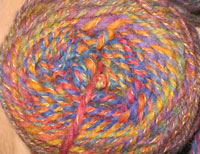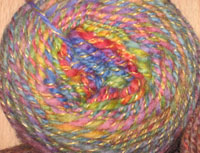 ---
Sometimes it seems there's no choice but to follow through on impulses. :-)
During the past week, there's been a lot of discussion in one of the online spinning groups about worsted and woollen yarns, about woollen spinning, and about the longdraw drafting technique. After spending several hours struggling with language one morning, it suddenly occurred to me that I had a camera capable of taking moving pictures, so....
This photo shows the "sophisticated" set-up I use for filming. (Er, can we still say "filming" when it's entirely digital?) This is fairly new territory for me, and the shifts in my skill level from one video to the next are appallingly apparent... but gee, what a wonderful way to communicate!
The results are available here on this website. To see them, go to the Articles index page. The videos are clearly marked. ...And of course, all videos are accompanied by a written article and reading list. (Can't help it!)
Enjoy! :-)
---
You never know what's going to come from a variegated roving. Sometimes the colours are clear and vivid; other times you get pastels... and then there are dark days when you end up with nothing but a disappointing muddy mauve.
So far, the rainbow dyepots of the past weeks have spun into some pretty nice stuff (click on the small photo at left for a better view). Of the two skeins in the photo, the one on the left was the first spun from the rainbow wool -- and it's respectable enough, but it looked so... woolly. It's totally matte. I yearned to see a gleam of light in it. The yarn on the right was the second skein, and it got its two plies of wool, plus a third ply: a fine silk singles, in a lovely deep gold coaxed from marigold flower heads (memories of a summer long past).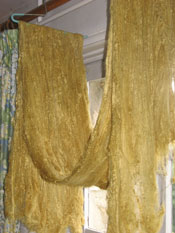 That did it! I love the way the touch of sheen sets off the colours. I'd been afraid that the gold would have too much of a yellow influence on the other hues -- but it works out just fine.
Of course, every discovery has its price: it was suddenly essential to have more gold silk, because the wool without it would now be disappointing... so I simmered up some marigolds, added a bombyx brick -- and now have a nice supply of lustrous gold (right), ready to rescue anything that needs a touch of sheen.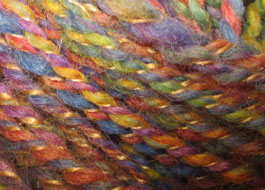 To get technical, the rovings came through the dye process nicely intact, and striped across their width. Hoping to keep the colours lined up (at least a little), I split each roving lengthwise before spinning, and spun one half onto a bobbin, then the other half onto another bobbin, starting at the same end of the roving (therefore the same colour stripe) each time. Well.
The colours did not line up when the two yarns were plied -- except in spots. As it turned out, though, that was all right; as long as the colour in each ply was clear and unmuddied, its mixing with another ply in a marled yarn worked out. After all, the shade next to another shade in the roving was related; so the shifting hues mingle cooperatively. ...There are a few zones where the colour is murky, of course, but they don't dominate the skein -- so it's not a problem.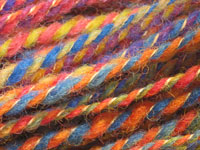 When the silk was added to the yarn, it was held as a third element in plying, as you can see in this macro photograph (right). The three plies had fairly even tension on them during plying, so they "sit" the same way in the yarn. The wool takes predominance in the appearance because it poufs out, leaving the silk to assert itself as a unifying gleam.
All in all, the experiment has been successful -- so far.
These first two skeins were actually different from most of the wool that got the rainbow treatment -- these were rovings of Suffolk wool, and though they took the dye the same way as the other rovings, they spin differently and yield a different yarn. The rovings yet to come are a finer, softer wool: a Merino-cross. It will be interesting to see how the different material affects the beauty of the outcome....
---
It may look like an odd colour wheel soaking in a sink (left), but it's really a rescue mission.
Our household project of Packing Things Up continues, and the most amazing half-forgotten things come to light in the process. Today's discovery: in a big box, surrounded by golden silks, rich blue wools and luxurious green blends (natural dye projects, all), I found the other, shabbier results of Dyepots Past. Bundles and bags of experiments that didn't work. Colours that aren't really colours cowering miserably in unlabeled disgrace.
My, my, my, my, my.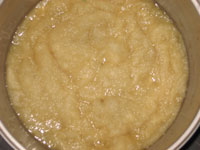 Not every promising plant lives up to its dye potential, alas. Every natural dyer who's experimented with local materials knows this colour (right) very well. Anne Bliss, in her excellent hand-sized book North American Dye Plants, described it in clear, unflinching terms: "blah beige".
The fibre itself is beautiful: a fine merino-cross wool from the Falkland Islands, perfect for using as-is, or for blending deliciously with silk. It was great to find it again -- except for the colour. ...And there was a lot of the stuff, varying only in degrees of blahness or beigeness!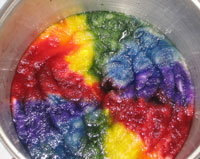 Enter the stainless-steel dyepot and some acid dye stock solutions that I needed to use up anyway. With firm resolve, I coiled the wool in the bottom of the dyepot and added just enough water (mixed with 100 ml of vinegar) to thoroughly wet the wool, but not enough to slosh around. When the wool was completely wet, I smooshed out the remaining air bubbles and applied some diluted (0.25%) dye solution (left).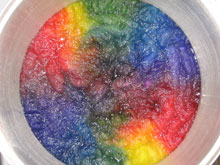 I lit the stove, placed a heat diffuser over the flame, put the pot on the diffuser, and waited. When the liquid was hot enough to steam, I turned the flame down to Low and set the timer for half an hour. As the time passed, the colours blended and feathered beautifully (right).
The biggest concern with doing a dye project this way is the very real risk of scorching the fibre. The dyepot contained a total of less than 2 liters of liquid, which meant the wool was actually in contact with the bottom of the pot -- not my usual method of doing things! ...The diffuser helped. The lower heat helped, too. I figured this approach would probably work just fine -- and if it didn't, the dyebath wouldn't exhaust, or the fibre wouldn't rinse clear, or there would be obvious felting and matting, and the problem would show itself right away.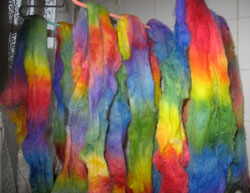 Guess what???
The dyebath exhausted.
The fibre rinsed clear.
There's neither felting nor matting.

And it's wonderful (left)!
There's still more rescue-dyeing to come in days ahead (I found many, many bags of beige wool!), which means there will eventually be a generous supply of rainbow-dyed roving begging for a project.
That this wool will become yarn is certain, and it's also clear that I'll keep the colour movements intact (mostly) in the spinning. But the destiny of this colourful woollen yarn.... Is this the opportunity for me to weave overshot with refreshing, modern colours in the pattern weft???
I think it might be. Stay tuned.
---
Yesterday began with one of those mornings.
Our apartment is due for some major Work. There's a seriously leaky roof (and falling plaster), and the wiring is about 50 years out of date. We're going to have some people come in to prepare bids, but before that can happen the apartment needs to have all its flaws visible; and what that means, in terms of daily life, is that everything (everything!) needs to be packed away into boxes so the walls, the baseboards, and the problems are out in plain view.
Putting things away is not my strong point, and packing everything into boxes where it will stay for several months makes me feel... like a cat in a garbage bag.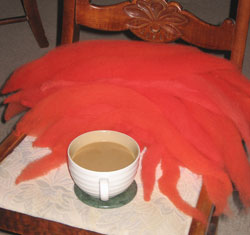 Luckily, there's a sure-fire remedy for a morning that has turned rough: bright fibre, a spinning wheel, and a big cup of coffee!
This (right) is one of the prizes for sorting and packing: near the stash basket, I rediscovered this red wool in a stack of baggies. It had originally been the byproduct of an adventure with a "free" fleece (you can read about the fleece here).
The baggie contained just enough wool for a nice skein, and its locks were fairly intact; so I decided to comb it. A pleasant hour spent with a pair of Louet mini-combs resulted in a tempting, cheering stack of bright red sliver. The coffee was hot. The day was already looking better.
This wasn't my first time spinning this particular wool. Earlier this year it got spun into a comfortably cushiony woollen yarn (you can see a close-up of that first yarn here). The colour is rich and vibrant in that original woollen -- but I decided to spin this batch worsted, just to see what difference it would make.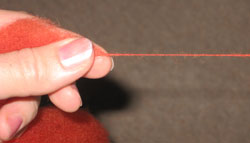 (Besides, I'd already combed all the wool, so why not??)
I oiled the wheel, grabbed a comfortable chair, and... it's a very nice spin (left). Certainly, I'd been a little distracted while combing, so a few tiny neps got left in each strip of sliver -- and now and then a tiny crumb of debris tumbles out as I draft; but this wool responds to the "short-draw" technique of drafting as though the sheep had had that in mind as it grew the wool. The photo shows the yarn-in-progress, between two drafting movements.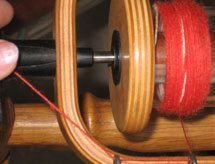 Having been around this particular block before, I know better than to expect my pretty red worsted yarn to stay smooth and dense -- it is, after all, spun from a fuzzy, springy, crimpy wool! It will undoubtedly puff up when I wash it. That's the nature of a downy breed.
That's all right with me, though. I enjoyed being immersed in such an intense colour for those few hours. Also: it's nice to keep the different techniques in shape (we don't want them to get rusty!), and I hadn't spun worsted for a while. This was a lovely, finite treat.
And even though I didn't spin it all in one sitting, it saved the day. ;-)
---
Big bamboo.
Beautiful, sleek, shiny, supple, dense, cool, elegant, well-behaved bamboo. In heartstopping green, with just a breath of other tints shimmering here and there.
This is the bundle of fibre that came home with me from Convergence, and I've fallen head-over-heels in love. I've spun bamboo fibre before (in fact, there's still a generous baggie of the uncombed variety somewhere around here), but the other bamboo fibres I've met were never this nice.
In spinning, this stuff is very much like silk -- except that it has no tendency toward static electricity, and it doesn't stick to your fingers in hot weather. The yarn it makes reminds me of Tencel -- except that this sheen is softer and less synthetic-looking, and this yarn's density doesn't also make it feel heavy.
The density is addictive --it will make a fabric that drapes sensually (that's sensually, with a capital Mmmmm!). The sheen is addictive. The colour is addictive. The drafting is delightfully addictive. ...I'm hooked! :-)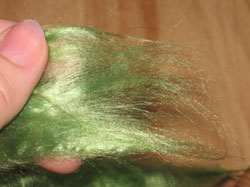 A question nags at me, though: what is this bamboo fibre, really??
It looks and feels similar to many "regenerated" fibres -- the ones that have natural, plant-based origins, but whose fibre structures are created by an entirely industrial process. In fact, I'd assumed that's what we were talking about here (having extensively examined the several kinds bamboo plants in this area and finding nothing spinnable in their makeup) -- but a couple of documents have crossed my desk that suggest otherwise.
The question demands more research, and I'll do that; but for the moment I'm happy to float on this lovely green cloud.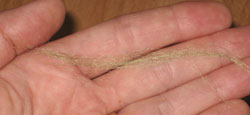 These bamboo fibres are smooth, shiny, slick, and about 4 inches long (left). Compared to silk, they remind me of A1 cultivated bombyx -- they're much smoother and slipperier than tussah silk tops. In spinning, too, they're reminscent of the smoothest silks, but they're more... more everything.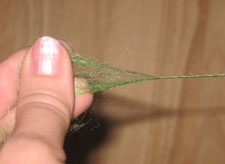 They are, in fact, so slippery that they require a small, well-controlled drafting zone to keep the yarn consistent, and to keep the fibres from simply sliding past each other as though they had minds of their own. Considering that the fibres are not short, that was a bit surprising. (It's worth it, though. I'll give these fibres whatever they want!)
In addition to a small, tightly-monitored drafting zone, this bamboo takes a lot of twist. ...Let me rephrase that: this bamboo takes a lot of twist!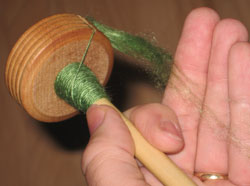 Without adequate twist, the yarn drifts apart with startling alacrity.
The other side of the situation is interesting, too: the yarn absorbs the twist and claims it for its own without snarls, rough spots, or snags. A highly-twisted singles of this bamboo feels like a lightly-twisted singles of, say, Tencel -- or a moderately-twisted singles of silk. In fact, to force this bamboo yarn to the point of true "overtwist", you need to apply yourself! The stuff is just... nice.
It holds still obediently for plying -- no snarls, no cursing. The plied yarn loses nothing of the beauty of the singles, either; instead, it amplifies it.
This new bamboo makes an exceptionally well-behaved yarn, stunningly suited for any situation that requires high twist or durability. ...That such a yarn can also have an endearing sheen and a lovely hand is just too wonderful for words.
I'm in love.
Again.
End notes, for inquiring minds

♦ The beautiful hand-painted bamboo fibre came from the dye studio of The Fiber Lady, whose business blossoms in Lewisville, Texas. The fibre is lovely (in case I forgot to mention that), and her other colourways are equally gorgeous. Click here to visit her website.

♦ The spindle shown here is one that I made -- and they are available for purchase, if you were wondering! Click here for more information.
---
Convergence 2008.
Tampa, Florida.
I was there.
To take this to a deeper and more personal level: I was also at the Complex Weavers Seminar in St. Petersburg, Florida, which spanned three thrilling, fulfilling days in the wake of Convergence.
One of the great things about the Internet is that you can be in touch with so many people in so many different places; but there's really nothing to match the experience of talking with people in person, face to face. ...It was lovely to meet so many of you during Convergence. Our world of handspinners and weavers really is a nice one. :-)
During Convergence itself, I was part of the extensive booth put together by Berlin Braids (also known as my dear friends Shirley and Peter Berlin). I was the one working in the middle, between (on one end) the Berlins and their beautiful marudais and braiding kits, and (on the other end) Ziggy Rytka, with his lightning-speed, elegant lucets.
Over the past few years I've discovered that I really love teaching, to the point where I'm totally hooked on the look of beaming pleasure that lights the face of someone spinning silk for the first time. I don't know how many people I taught to spin at our booth during Convergence -- but I can assure you that I enjoyed every minute of it!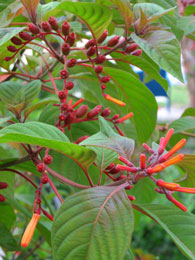 Being a vendor means you don't get to shop as much as you might otherwise do -- but by applying my significant experience and fast-draw wallet techniques, I was able to work around that. ;-) I came home with the new "Best of Weaver's" book on overshot, a brand-new book on fingerweaving techniques, two large cones of UKI mercerized cotton, and a satisfyingly dense baggie full of richly dyed bamboo top in a heartstopping green (the leaves in Florida's sub-tropical flowerbeds are but pale echoes of this gorgeous stuff!).
Too reasonable, you say?? Okay -- then I'll confess that I also bought a couple of beautiful handblown glass beads (perfect pendants to hang on a braid -- you'll be seeing them in that guise soon), a lovely pair of dichroic glass earrings, and two gorgeous skeins of hand-painted Tencel yarn in the rich hues of a deep tropical pond.
The biggest prize, though, came in the form of new friendships -- especially the ones that unfolded during the Complex Weavers Seminars. New friends and old, I'm smiling as I type this, thinking of you (plural) and our conversations.
It was a good time.
---
Return to the Archive directory page
Return to the Now spinning page